04.29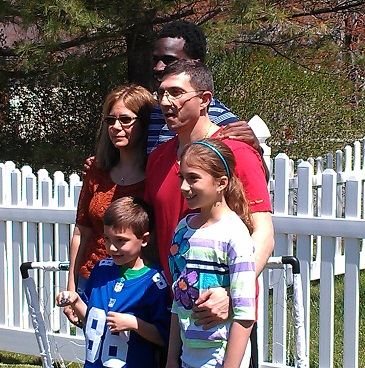 By Susan Lulgjuraj | Beckett Football Editor
On a sunny Saturday afternoon, Michael Rosato played football on his front lawn with a few of his friends. They ran routes to get to the end zone disguised as a driveway. They handed off the ball to their secret weapon, a little girl who giggled the whole time.
But one of the players stood out above the group of 7-year-olds.
New York Giants second-year player Prince Amukamara was the quarterback.
?It was priceless seeing him out there playing football,? Michael?s mother Anne Rosato said.
The Rosato family won Panini America?s NFL Player of the Day promotion where they got to meet an NFL player. Initially, it was announced they would get to hang out with wide receiver Hakeem Nicks, but the New York Giant canceled that morning. After calling around and scrambling to find a new player, Amukamara was happy to come to the family?s house, play football, sign a few autographs and check out Michael?s extensive card collection.
?It was pretty wild,? Frank Rosato said. ?We couldn?t ask for a better person than Prince. He was absolutely tremendous. Panini did a really great job.?
Frank Rosato, 43, was the winner of the grand prize, but shared the day with his family and friends. About 100 people greeted Amukamara when he pulled up to the Rosato home in a stretch limousine that the family got to ride in afterward.
Amukamara bought jerseys and even brought his Super Bowl championship ring, which a number of the family members tried on and took pictures with it.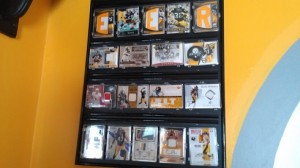 Even though the family was prepared for Nicks with banners and posters bearing his name, they quickly removed them and found new photos of Amukamara. There were New York Giants balloons in front of the two-story home. Inside, the family decorated with blue and white ribbons and Giants napkins.
At the end of the day, disappointment was not a feeling any of them would use to describe it.
?It was really fun,? said Michael, who wouldn?t leave Prince?s side. ?My favorite part was playing football with my friend and Prince.?
Frank Rosato, an avid Pittsburgh Steelers fan, seemed surprised it was announced in March he won the contest. It didn?t hit him even a couple of weeks after the fact. Instead, it seemed his co-workers were more excited for him.
?When the numbers came out and told us how many people entered and won, I was shocked,? Rosato said. ?In some respects, I?m still in shock. You never get over it. It?s a huge deal.?
After an hour at the family?s house in New Providence, N.J., Amukamara signed for another hour at Attack of the Baseball Cards in Union, N.J., where Rosato was entered to win the contest. The promotion gave publicity to the card shop owned by Steve Mandy tucked away next to batting cages.
Mandy, who has been in business for 31 years, was happy his loyal customers got to take part of the festivities.
?We had about 150 people here,? Mandy said. ?We take part in all the contests the card companies do. We?re constantly doing stuff. Prince is a good player too, a first-round draft pick.?
Amukamara, who was drafted in 2011, seemed bewildered by all the children running. However, he quickly got into the action and enjoyed his time with the Rosato family asking questions throw at him by Michael and his sister Emily.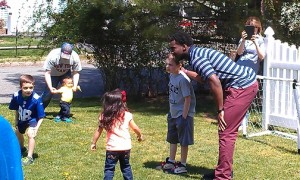 He got to see Michael?s room, which was decorated with football posters and McFarlane figures, and saw his football card collection. Amukamara even saw the ?Steelers room? as the family calls it with Frank Rosato?s Steeler memorabilia draped around.
Amukamara gets the collecting aspect. The 22-year-old said he collected cards are as a child, but they were Pokemon cards.
?It was almost overwhelming, but definitely worth it,? Amukamara said. ?I?m glad I my calendar was free and I was able to come down and celebrate with them.?
Susan Lulgjuraj is an editor of Beckett Football. You can email her here with questions, comments or ideas. Follow her on Twitter here. Follow Beckett Media on Facebook and Twitter.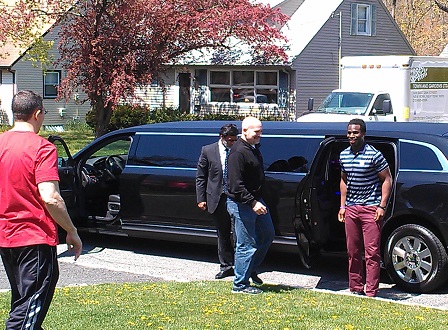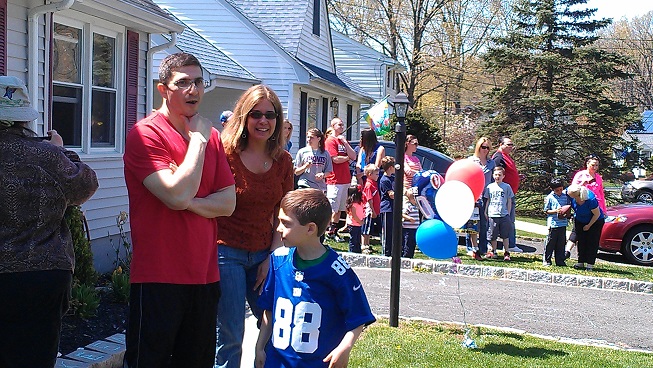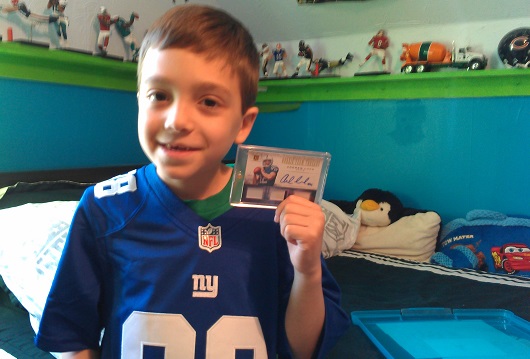 Source: http://www.beckett.com/news/2013/04/new-jersey-family-spends-the-day-with-a-new-york-giant/
printable bracket game change own stacy francis tournament brackets 2012 ncaa basketball tournament walt