The America's Got Talent auditions continued to limp along Tuesday, with producers emphasizing that contestants had to go big or go home in St. Louis. It's unclear such an emphasis was placed in this city, but we seemed to have grabbed a very interesting cross-section of auditions from all over the United States.
I had my doubts when the first few auditions included the awful drummer/mom who played "I Will Survive" and lacked a band; a woman who crushes cans with her hands (instead of her boobs; a dancing chicken; and an awkward unicyclist/lassoer - but the auditions picked up. Too bad we didn't actually see many of them. On to a full recap!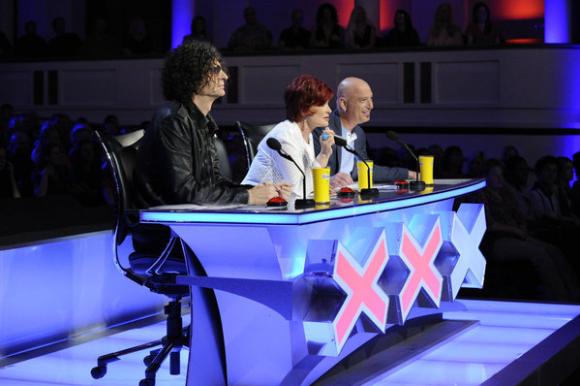 Inferno
Spencer Horseman - After having a really poor escape artist last night we not only get a good looking escape artist in Spencer but a very dynamic performance that involved the right amount of danger. The fact that he had to fall to a mat to prevent his death was amazing. I predict that he'll automatically make it through to the live rounds and not have to do anything in Vegas just to prevent his accidental death. Some of his websites claim that he's also a "comedian" so I wonder if we'll ever see them.

Medium
Isaac Brown - You know when little children get to get away with saying whatever they want? Isaac had personality and it made up for how pitchy he was. I would love if he had his sisters and parents as backup dancers. Someone better call up Nickelodeon or Disney, because this kid needs to be part of a development package.
The Cut Throat Freakshow - I would have been impressed by the glass stepping woman if it wasn't for the viral video of the woman dancing on butter. For some reason, I would have watched butter woman much more than her. The eyelid lifting was similar to Captain and Maybelle from last season but with a lack of staging.
Mild
Tom Bonham - The slightly creepy puppet guy didn't have the Disney touch that made it family friendly. It was like watching a cracked out It's A Small World that a kindergarten created. While I'd love to see what he would have done in Las Vegas at least Howard and Sharon had the brains to say no.
"Little Ozzy" - We've had impersonators before, but I can't remember a little impersonator. The vocals weren't that bad at all, but I don't know where this goes. If this was a Vegas act, I'd love to see a full "Little Celebrity" group, even though that hugs the line of exploitation and taste.
Ron Christopher Porter Jr. - The queen-y guy was actually not a bad voice-actor. It's just not a Vegas act. I could see him do the opening to the winner's show, but it was a good video for a resume. He basically allowed Curtis the trash man to get another two minutes of camera time in front of America.
What was YOUR favorite act from the evening? Any potential winners here?
time magazine person of the year time magazine person of the year la clippers verizon galaxy nexus verizon galaxy nexus lawrence lessig lawrence lessig